China Lights Up – Beautiful 'China Urbanization' Night Maps
在中国20年的城市发展迅速,捕获卫星在这些美丽的夜晚地图:
China's urban boom over 20 years is captured in these beautiful satellite night maps, via Business Insider.  Similar night maps for other parts of the world can be found on the US National Oceanic and Atmospheric Administration (NOAA) website.   
'China Urbanization' Nightmaps: 1992 Vs. 2010
The NOAA has a very cool film loop (via Gregor Macdonald) showing the progression of the Chinese night maps from 1992-2010. You can watch the full animation here.  Below are 1992 and 2010: 
China Urbanization Night Map 2010, above. Shanghai 's development is especially striking, as is development of the constellation of cities to its north up to Beijing, and the urbanisation of the Shenzhen – Guangdong coastal strip east of Hong-Kong.  Jon Belk on Twitter notes how there's been literally no change to North Korea in this time.
China Urbanization Night Map 1992, above. Twenty years ago, Hong-Kong appears the most intensely developed of the mainland mega-cities, although Shanghai and Beijing are clearly visible.  Seoul and the Taiwanese coastal strip round Taipei can also be seen as highly developed across the East China Sea.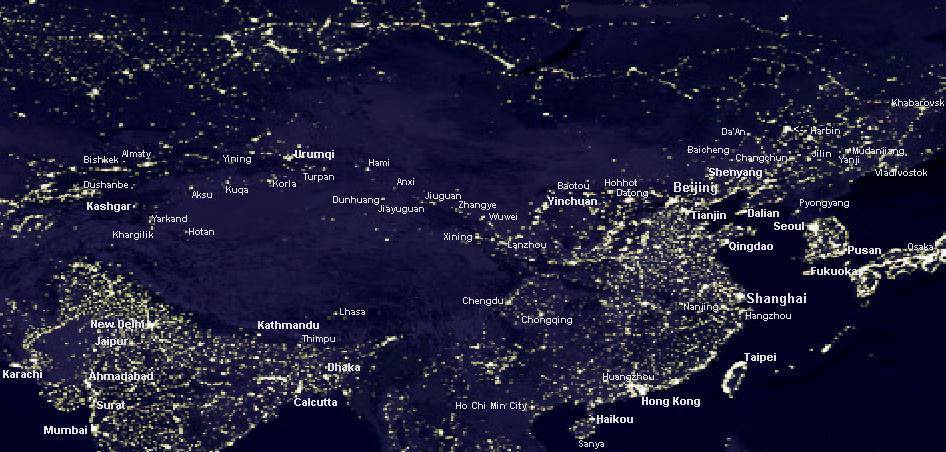 Above – 2010 'China Urbanization' night map with place names for reference – note the string of cities along the ancient Silk Road north of mountainous Tibet. www.china-mike.com
Above – The latest 'urbanization' night time map for Europe, North Africa and the Middle East.  Look at the River Nile! Europe's big metropolitan regions including Liverpool and Manchester are quite clearly differentiated, although these often contain more than one core city.
For example, the Mersey valley Liverpool-Manchester city regions where Share the City run our Liverpool city tours are similar in overall scale to London, and larger when combined with England's Yorkshire (Leeds, Sheffield and Bradford) and Midlands (Birmingham and the Black Country) conurbations.
The thin dark strip of the mountainous Pennines and Peak District can be seen dividing these major city regions of Lancashire and Yorkshire. (Italy's Appenine mountain range is also visible as a dark strip bisecting the north of the country).
The Tyne-Tees conurbation of Newcastle, Gateshead, Sunderland and Middlesborough can be seen in England's north east.
Southern Scotland's central belt of Glasgow and Edinburgh is also visible as a single linear conurbation.
Far to the East, Moscow is clearly at the centre of a spider's web of links radiating in all directions, with St. Petersburg especially prominent on the coast to its north west.
Europe/North Africa/Middle East night map via Woodley Wonderworks
World satellite night map The Mandala Projects